COVID-19 - New Client Health and Safety Clinic Procedures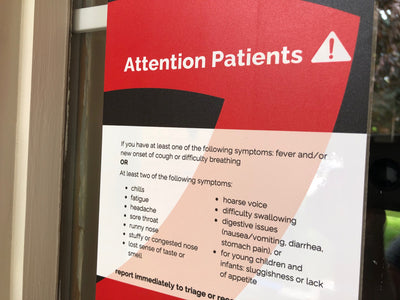 Your health and safety are extremely important to us, so we have implemented some new safeguards with you in mind.

How to book an appointment
Returning clients will still have access to online booking
New clients will be required to create their online profiles with a valid credit card to benefit from our online booking system.
Note. To lessen the risk of virus transmission, we are utilizing a touchless payment system.


It's the day of the appointment, here's what to expect…

Complete Safe Visit Pre-Screen Survey/Informed Consent
The Safe Visit Pre-Screening Survey is one of many steps we have implemented to help minimize the risk of transmission of viruses, such as COVID-19. Clients are required to answer the online questionnaire honestly. A pre-screening questionnaire will be sent before every appointment.
The day of the scheduled treatment, clients will be emailed their COVID-19 self-screening survey to complete 3 hours before their appointments.
If a client answers "yes" to some two or more of the questions, client will be refused treatment and will be expected to self-isolate as per provincial guidelines. Cancellation policies will be waived in this instance.
Clients who do not complete the online survey before their appointment will receive a phone call from the clinic and will be expected to answer the screening questionnaire. This delay associated with your arrival may, shorten your appointment.
Clients who refuse to comply with this pre-screening step will be refused treatment.
Clients will also be required to sign an additional online informed consent form to ensure that they are made aware of potential risks of exposure to COVID-19.
Client appointments are prioritized in accordance with need, rather than on a regular first come first serve basis. This is done in accordance with guidance provided by the Province of Ontario and the College of Massage Therapists of Ontario.

What to do when arriving at the clinic
To respect social distancing restrictions, we ask that you arrive to your appointment alone and timely (no more than 10 minutes early)
Although we have allotted additional time in between appointments to thoroughly clean, you may be asked to stay in your vehicles until we call you in

What to bring to your appointment
Clients are encouraged to bring/wear their own face masks
Face masks will be available for purchase ($2.00) upon check-in
Note. Face covering must stay on for the entire duration of the treatment 
What to expect at check-in
Upon entering the clinic, clients will be required to:
Deposit their belongings (shoes, jackets, etc.) in the bin provided at the front door (if applicable)
Disinfect their hands with hand sanitizer
Have a face mask on before entering the building
Note. Face masks are mandatory. One-time use 3-ply masks will be available. You will be added to our daily roster for contact tracing purposes

What to expect at check-out
As mentioned, client's credit card on file will be used as the method of payment upon check out.
Receipts for treatments will be issued via email.

Note. Clinic will initially be working at a reduced capacity. To avoid disappointment, clients are encouraged to pre-book their next appointments before leaving.

Upon exiting the clinic, clients will be encouraged to:
Collect their belongings (if applicable)
Wash their hands with hand sanitizer before leaving the premises.
Safely dispose of their mask
Leave a comment (all fields required)
Comments will be approved before showing up.